American Gardners Wrest Back World Record-For Lawnmowers!
October 8th, 2010
Comments Feed
Remember last May we posted a note saying that the Brits were attempting to regain the World Record for lawnmowers by breaking the hundred mile an hour barrier? Well, they did and they didn't. They did get back the World Record, but they didn't break 100 mph ( 160 kph).
Anyway these oddballs are at it again because America has now regained the World Record at Bonneville Flats with a run of 96 mph.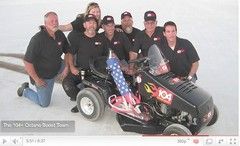 Here they are after their successful run. So this is a lot more serious than our 'tongue in cheek' expose in May.
Oh, and yes, they do have to cut a stretch of lawn with the same mower after the record run, but being Bonneville Flats ( a saltlake) they have to bring the grass with them!
Comments are closed!